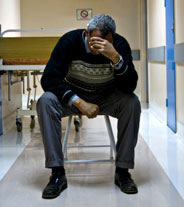 New York REsources
In New York, during 1997, Adult Protective Services received about 25,000 referrals statewide. About two-thirds of the reported incidents involved adults aged 60 and older.
Of the perpetrators, slightly more than a third (34%) were adult children, 26 percent were spouses, and 26 percent were unrelated.
New York State is one of the five states that do not mandate that reports of suspected domestic elder abuse and neglect be made to adult protective services. However, Adult Protective Case workers are mandated reporters to the police, if they believe a crime has occurred.
State Government Agencies
Laws and Regulations
Sources for Statistics
Help Lines and Hotlines
Other Resources
Custom Search
Resources