Bryan County, Oklahoma Resources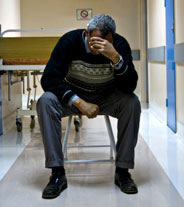 Bryan County is a county located in the U.S. state of Oklahoma. As of the 2010 census, the population was 42,416. Its county seat is Durant and is the only county in the United States named for Democratic politician William Jennings Bryan.
Each year, thousands of Oklahoma's vulnerable adults suffer abuse, neglect, and exploitation by family members and other caregivers. Many victims are frail and vulnerable and cannot help themselves and depend on others to meet their basic needs.
Our vulnerable adults need our support and protection. If you or someone you know is concerned about the well-being of an adult friend, neighbor or relative, Adult Protective Services (APS) is there to listen and respond. APS specialists interview the vulnerable adult and determine whether maltreatment has occurred. The APS specialists help connect vulnerable adults to the services they need to stay safely in their homes and community whenever possible.
Oklahoma Human Services
If you suspect that a vulnerable adult is the victim of abuse, neglect or exploitation, you may submit an online report at www.OKHotline.org
Adult Abuse Reporting
Hotline: (800)522-3511
Bryan County Human Services Center
4302 West Highway 70
West Durant, OK 74701
Phone: (580)931-2500

Southern Oklahoma Development Association
Provides health and nutrition services for older adults.
2704 North First Avenue
Durant, OK 74701
Phone: (580)920-1388
Meals / Nutrition:
Supplemental Nutrition Assistance Program
4302 West Highway 70
West Durant, OK 74701
Phone: (580)931-2500

Southern Oklahoma Nutrition Program
301 North 16th Avenue
Durant, OK 74701
Phone: (405)238-1500
Choctaw Nation of Oklahoma
P.O. Box 1210
Durant, OK 74702
Phone: (800)522-6170
Legal Resources:
Durant Police Department
3104 Carl Albert Drive
Durant, OK 74701
Phone: (580)924-3737
Calera Police Department
112 West Main Street
Calera, OK 74730
Phone: (580)434-7000
Bokchito Police Department
113 Main Street
Bokchito, OK 74726-1120
Phone: (580)295-3818
Caddo Policr Department
219 Buffalo Street
Caddo, OK 74729
Phone: (580)367-2383
Custom Search
Resources