Beaver County, Oklahoma Resources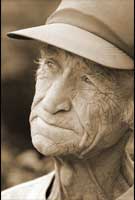 As of the 2010 census, the population of Beaver County Oklahoma was 5,636. The name was given because of the presence of many beaver dams on the Beaver River, which runs through the area. It is located in the Oklahoma Panhandle.
Adult Protective Services
Adult Protective Services (APS) provides vulnerable adults protection from abuse, neglect or exploitation and offers services. The services help with proper medical care, self-maintenance skills, personal hygiene, adequate food, shelter and protection.
If you suspect that a vulnerable adult is the victim of abuse, neglect or exploitation, please contact you local DHS County Office. If it is after regular business hours, please call the Statewide Abuse Hotline at 1-800-522-3511.
Beaver County Adult Protective Services
Hotline: (580)625-3441
After Hours Hotline: (800)522-3511
Email: BEAVER.APS.Hotline@OKDHS.org
Aging Services
Aging Services Division (ASD) helps develop systems that support independence and help protect the quality of life for older persons as well as promotes citizen involvement in planning and delivering services.
Phone: (405)521-2281
Fax: (405)521-2086
Caregiver Support Services
The Caregiver Support Program provides funds for respite services for those caring for a loved one or family member who is 60 or older and who has difficulties performing at least two activities of daily living (eating, dressing, bathing, toileting, or transferring) or who needs supervision due to a cognitive or other mental impairment. It also provides respite for grandparents and older persons who are relative caregivers of a child who is 18 years of age or younger. Grandparent or older person who is a relative caregiver means a grandparent or step-grandparent of a child, or a relative of a child by blood, marriage, or adoption who is 55 years of age or older.
Eligible caregivers may receive payment vouchers to hire someone to stay with their loved one so that they can take a break from their caregiving duties. Caregivers can hire the person of their choosing as long as the person is over 18 and does not live in the same household as the caregiver or care receiver.
Meals / Nutrition:
Oklahoma Economic Development Authority Area Agency
P.O. Box 668
330 Douglas Avenue
Beaver, OK 73932
Phone: (580)625-4531
Wheatheart Nutrition Project
P.O. Box 606
Blackwell, OK 74631
Phone: (580)262-0303
Legal Resources:
Beaver County Sheriff's Office
215 Avenue E
Beaver, OK 73932
Phone: (580)625-4549
Custom Search
Resources