Blaine County, Oklahoma Resources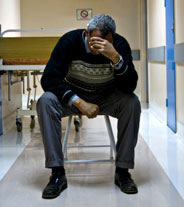 As of the 2010 census, Blaine County Oklahoma population was 9,785. Its county seat is Watonga. Part of the Cheyenne-Arapaho land opening in 1892, the county had gained rail lines by the early 1900s and highways by the 1930s. The county was named for James G. Blaine, an American politician who was the Republican presidential candidate in 1884 and Secretary of State under President Benjamin Harrison.
In-Home Support Services
The In-Home Supportive Services (IHSS) program is a federal, state, and locally funded program designed to provide assistance to those eligible aged, blind, and disabled individuals who, without this care, would be unable to remain safely in their own homes. In-Home Supportive Services provides services according to the recipient's ability to perform daily activities, and can include feeding, bathing, dressing, housekeeping, laundry, shopping, meal preparation and clean up, respiration, bowel & bladder care, moving in and out of bed, rubbing the skin (to prevent skin breakdown), accompaniment to medical appointments, paramedical services, and protective supervision.
In-Home Supportive Service recipients are responsible for locating their own home care providers, for hiring and supervising their providers, and for firing the provider if the services are not performed according to the client's specifications.
Who Qualifies for In-Home Supportive Services
You must be receiving Medi-Cal, be blind, disabled, or 65 years of age or older, AND be unable to live at home safely without help.
In-Home Supportive Services Social Workers determine if you qualify by assessing your functional need for specific services, and identify the amount of time to be allotted for the performance of services. Depending on the amount of your monthly income, you may be required to pay a share of cost for these services.
Complete and return an application. Contact your local Department of Health & Human Services and request a In-Home Supportive Services application.
Adult Protective Services
Each year, thousands of Oklahoma's vulnerable adults suffer abuse, neglect, and exploitation by family members and other caregivers. Many victims are frail and vulnerable and cannot help themselves and depend on others to meet their basic needs.
Our vulnerable adults need our support and protection. If you or someone you know is concerned about the well-being of an adult friend, neighbor or relative, Adult Protective Services (APS) is there to listen and respond. Adult Protective Services specialists interview the vulnerable adult and determine whether maltreatment has occurred. The Adult Protective Services specialists help connect vulnerable adults to the services they need to stay safely in their homes and community whenever possible.
Blaine County Department of Human Services
410 W. Main Street
Watonga, OK 73772
Phone: (580)623-2000
Toll Free: (800)522-3511
Website: OK Report Abuse
Meals / Nutrition:
Food Services Senior Center Meals
202 West Broadway Suite A
Enid OK 73701
Phone: (580)623-2330
Wheatheart Nutrition Project
212 North Spiece
Watonga OK 73772
Phone: (580)623-2330
Legal Resources:
Watonga Police Department
119 East 1st Street
Watonga OK
Blaine County Sheriff
205 North Burford
Watonga OK 73772
Phone: (580)623-5111
Custom Search
Resources